Storage system
Storage systems are getting a lot of attention lately. These systems provide both block and file services across multiple protocols via a single storage system. They are an ideal option for data centres looking to simplify their storage infrastructure by centralizing all the demands of the data centre onto a single storage system. Every major storage vendor has a unified storage system of one kind or another.
Storage solutions can choose from a range of options in line with storage requirements
Multiprotocol Enterprise Storage is reliable, self-optimized storage array designed to power the enterprise. Built-in intelligence boosts performance of business critical application while maximizing efficiency to help lower TCO
Storage solutions designed to customer's need in mind

Storage consolidation
Virtualized infrastructure
Application integration & optimization
Data protection
Disaster recovery
Data retention & recovery
Cloud integration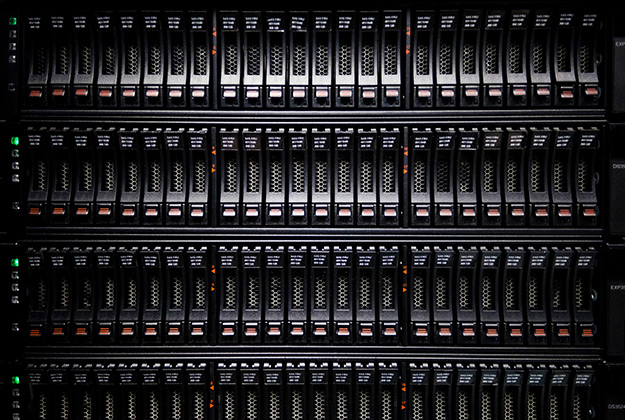 Unified storage systems is a hardware component that contains a group of homogeneous/heterogeneous storage devices assembled within a cabinet. The enterprise class Storage systems are designed for high capacity, scalability, performance ,reliability and security to meet business requirements. The compute systems that run business applications provide storage capacity of storage systems
The word "unified" implies that a system supports multiple connectivity and access options. For most systems, it means that the unit can serve files (NAS) and blocks (SAN) from the same device. For others, it means that the system can only do block, but you can connect via iSCSI or fibre. In the purest sense, a unified system should be able to provide block access across all the available connectivity options (fibre, iSCSI, FCoE, etc.) while at the same time providing file access across NFS and SMB.
The sheer volume of data coupled with the enhanced analysis capabilities available today means that businesses now have the potential to get a better understanding of how their customers behave in the past and present as well as possibly the future.
Due to its absolute volume, how and where businesses store this ever-growing pool of data has become more important than ever. The IT infrastructure must be able to scale with growth and continue to provide consistent levels of performance.
Yet the reality for many is that data centers are running out of space in facilities with premium cost per square foot. In addition, legacy disk-based storage is unable to deliver consistently against new performance requirements. Storing data is not just about how and where, but also the speed in which it can be accessed, manipulated, and presented. For example, accessing data in 5-10 ms is just too slow for a data-driven business that is responding in real time to global business opportunities on a 24×7 basis.
Due to its inherent technological advantages, an all-flash storage solution can solve many of today's data growth and accessibility problems in a denser, more efficient, and smaller form factor. This enables a higher degree of storage consolidation within every 42U rack, saving massively on data center space. This increased rack density is offset by power and cooling savings of up to 80%, thus enabling data centers to stay within their power envelope for each rack on the floor. Additionally, with advancement in flash technology, the downward price curve means that all-flash solutions can now be acquired at the same cost as traditional enterprise disk storage.
At the same time, flash-based storage delivers higher I/O performance, which is on average 10-15x faster than legacy storage. Flash can retrieve data in microseconds, rather than milliseconds, which is essential for real-time or other performance-sensitive workloads. Thus flash delivers higher density and performance at comparable cost.
---
Software Defined Storage marks a departure from the traditional use of NAS and SANs. In contrast to hardware centric, Software defined storage uses storage virtualization to control storage through a software layer abstracted from physical storage devices. The SDS Software manages policies for data deduplication, replication, thin provisioning snapshots and backup
Before investing in a data storage solution, consult with us for options which will best meet your business's current and future needs.